Back to press
The world-famous Wynwood Walls are turning 10. Here's how they've changed Miami
The way Jessica Goldman Srebnick tells it, her father, Tony Goldman, stood on Northwest Second Avenue and 25th Street sometime circa 2007 — back when Wynwood was still primarily an industrial warehouse district, a haven for graffiti artists and small galleries, and a place where large chunks of real estate could be scooped up cheap — and he saw the future.
"I could see my dad's thought process as he stood there and said, 'This is going to be the spine,' " Srebnick said. "Every neighborhood needs a town center. Growing up as the daughter of a visionary thinker, I have seen the progression of neighborhoods over my entire lifetime. And the creation of the Wynwood Walls turned out to be the heartbeat of this neighborhood."
Goldman, who died in 2012, was a developer and preservationist who specialized in spotting bright potential in blighted neighborhoods. Through his company Goldman Properties, he transformed New York's SoHo district and South Beach from rundown, grimy areas into red-hot residential neighborhoods with an artistic soul.
Today Srebnick, CEO of Goldman Properties, one of the largest land owners in Wynwood, continues her father's mission. In the decade since Wynwood Walls opened its gates in December 2009 at 2520 NW Second Ave., the 70,000-square-foot outdoor gallery of gigantic murals of curated street art has become one of the most iconic public museums (and biggest Instagram magnets) in the world.
The property also houses three indoor galleries, including two operated by Goldman Global Arts, the curating arm of Goldman Properties: A 3,400 square-foot at the back of the Walls that opened during Basel 2016 and a 1,500 square-foot space that opened in 2018.
For the 10th anniversary, the Walls — which rotates roughly a dozen of its 40 murals once a year — will feature new works by established and up-and-coming artists including Martha Cooper, Kenny Scharf, Kelsey Montague and Michael Vasquez.
The occasion is also being celebrated with a coffee table book, "Walls of Change: The Story of the Wynwood Walls," by Assouline Publishing. It documents the first decade of the gallery via photographs taken by Martha Cooper and essays written by artists who have exhibited their work there, including Shepard Fairey, Maya Hayuk and Ron English.
But aside from the high regard the museum enjoys, the Wynwood Walls has also been one of the most important catalysts for the ongoing transformation of Wynwood into a global real estate market that attracts international investment and developers.
"Art is a huge component of what Wynwood has become and what it is going to be," said Martin Miculitzki, president of the Miami-based Block Capital Group real estate development firm, which has completed 15 projects in the neighborhood ranging from adaptive reuse of warehouses to brand-new residential and office buildings.
"When we started developing in Wynwood 10 years ago, the neighborhood was in decay," Miculitzki said. "But Tony Goldman always championed partnerships between artists, public agencies and investors in Wynwood. Art has created an energy here that you can't feel anywhere else. You sense it the minute you walk into the area. And you realize the potential the neighborhood has."
Although Wynwood only spans 50 city blocks, its size belies its importance as an economic and tourism driver for the City of Miami.
According to the most recent annual report by the Wynwood Business Improvement District (BID), which is comprised of more than 400 property owners in the neighborhood, 2.9 million people visited Wynwood in 2018. Along the way, they spent $526 million in the area and accounted for 20% of all City of Miami Pay-by-Phone parking transactions (nearly 1.5 million).
A RESIDENTIAL NEIGHBORHOOD
Although the BID pegs the current number of full-time Wynwood residents at 1,654, that number is expected to swell as a number of new residential projects are finished. Already near completion or in the pipeline are:
▪ Domio Wynwood, a 175-unit residential project at 51 NW 26th St. formerly known as The Bradley. A joint venture by The Related Group and Block Capital Group, the building was leased out in its entirety on Wednesday by the New York-based apartment-hotel brand Domio, which will use the apartments as hotel rooms.
The lease runs for 10 years, with an option to renew. Reservations are open starting Dec. 30, with average rates ranging from $155-$255 per night for a one-bedroom and $214-$300 for a two-bedroom.
▪ Wynwood Square, a mixed-use project at 2201 N. Miami Ave., will span a full city block and feature 257 apartments, 60,000 square feet of office space and 27,000 square feet of ground-floor retail. The joint venture between the Los Angeles-based CIM Group and the Miami-based One Real Estate Investment is scheduled for completion in mid-2021.
▪ The 11-story Wynwood Green, the first multifamily development within City of Miami limits by the Lennar Corp., will feature 189 apartment rentals at 56 NW 29th St., the previous location of O Cinema Wynwood and The Wynwood Yard. The project is currently in the pre-construction phase.
▪ Wynwood Quarter, the first phase of a massive proposed development by Bel Invest USA, the American arm of the Italy-based global development firm Bel Invest, will add 143 rentals and 24,000 square feet of ground-floor retail space to the mixed-use project at 161 NW 28th St. That project is also in the pre-construction phase.
▪ Two co-living buildings are also in development: the 220-unit The Society at Wynwood at 2431 SW Second Ave. by Property Markets Group and the Toronto-based Greybrook Realty Partners; and the fifth U.S. location by the London-based The Collective, a 325,000-square-foot, $210 million mixed-use project at 2825 NW Second Ave. Groundbreaking is expected in 18 to 24 months.
▪ The Italian clothing retailer Diesel is also making its first foray into real estate with an eight-story, 143-unit luxury condo building on Northwest 28th Street that will officially launch on Dec. 4 during Art Basel with a virtual reality-enabled sales gallery. Construction will begin in April 2020.
The boom in Wynwood residential development wasn't a sure thing as recently as two years ago, though.
Jon Paul Pérez, vice president of The Related Group, admits the company gambled when it broke ground in 2017 on the $100 million, 289-unit Wynwood 25, the first residential building constructed under the Neighborhood Revitalization District (NRD) plan that allowed for taller buildings with higher density and lower parking requirements.
"At that time, there was very limited residential product in Wynwood," Pérez said. "Our bet was based on the fact that when you went to Wynwood on the weekend, there were 10 times as many people there as there were in Brickell or Midtown. We figured there had to be some pent-up demand from people wanting to live where they hung out."
The gamble paid off. Pérez said Wynwood 25 has rented 70 percent of its 289 units since the building opened in September, with a current asking rent of $3.18 per square foot (from $1697-$6,000 for studios, one, two and three-bedrooms).
Wynwood 25, which overlooks the Wynwood Walls, also features the largest single piece of art in the entire neighborhood: a seven-story mural by the Los Angeles artist El Mac that recreates a photo he took of two boys watching him while he painted another mural in Wynwood during Art Basel 10 years earlier.
Land values in Wynwood have also soared. According to the Miami-Dade Property Appraiser, Goldman paid $3,900,000 in 2007 — or $42 per square foot — for the initial 38,000 acres from which Wynwood Walls grew.
In August, developer Property Markets Group and the Toronto-based Greybrook Realty Partners paid $46 million for a 1.6 acre parcel at 2431 NW Second Avenue — or $660 per square foot.
OFFICE HURDLES
New office space development has been a tougher sell.
Despite the 2015 NRD zoning revision, Jonathon Yormak, founder and principal of the Miami-based East End Capital development and investment firm, said he expects the current trend — refashioning existing warehouses into offices and restaurants — to prevail over new construction.
Yormak said he expects to see more adaptive reuse like the Concrete Beach Brewery, which opened in 2015 inside a converted warehouse at 325 NW 24th St. and has become a popular social hall and event space.
"That mix of old and new is what will keep Wynwood interesting," said Yormak, whose company repurposed 25,000 square feet of warehouse space at 50 NW 24th St. into the popular two-story Wynwood Arcade, home to The Salty Donut and the cooking school In the Kitchen. "Not every site is big enough or warrants more development for best use."
Breweries, though, aren't a good fit for the gleaming Class-A office buildings sprouting up around Wynwood, such as the Wynwood Annex, a joint venture between Related and East End Capital that opened in September and features 60,000 square feet of space.
The Related Group's Pérez said office rentals are a "chicken and the egg" situation because although Wynwood is a new office space, the rents are on par with Brickell (spaces in the Annex go for mid-$50s per square foot, which is the same as Class-A offices in Brickell according to Squarefoot.com).
"We've had some success," Pérez said. "We released a full floor to LiveNation at a high rent. We had a deal with an ad agency that was going to take two full floors but when it came to sign they fell out. If they had stayed on, we would have had 50 percent leased at the time of opening."
Pérez said Miami has never been a strong pre-leasing office market and he expects the Annex to be fully leased within nine months.
But competition for Class-A office tenants in Wynwood likely will increase over the next two years, when more projects currently under construction are completed, such as the 545Wyn mixed-use building at 545 NW 26th St. by the Chicago-based developer Sterling Bay, which will add 298,000 square feet of office space to the neighborhood.
Danet Linares, vice chairman of Blanca Commercial, said there has been steady interest in Cube Wynwd the 86,000-square-foot office building developed by New York-based RedSky Capital at 222 NW 24th St. that opened this year.
Thus far, the only signed tenant has been the co-working firm Regus Spaces, which leased a total of 24,000 square feet. The asking rate for Cube is between $38-$42 per square foot on a triple net basis (which means no operating expenses included).
"Wynwood is a new market, but we're confident with all the additional residential units that are being built as well as the hotels, you'll see a lot of demand from tenants," Linares said. (Marriott has announced it will begin construction on a 120-room Moxy hotel at 255 NW 25th St. in early 2020.)
YIN AND YANG
One thing that differentiates these office buildings: Their architecture is bold and colorful and eclectic, fulfilling the Wynwood BID requirement that all new construction incorporate art into its bones.
The mandate ensures that the shiny new projects will blend in with the grittier warehouse spaces, whose exteriors have been turned into elaborate, eye-popping canvases by street artists.
"When Tony Goldman first approached me about Wynwood, one of the things he said was 'Kid, we're going to build the Lower East Side here,' " said the famed Wall Street banker-turned-artist Peter Tunney, who opened the first permanent gallery inside Wynwood Walls — the 4,000-square-foot The Peter Tunney Experience — in March 2010. (His first gallery opened in New York in 1991.)
"Tony told me 'They're all yin. They need some yang,' " Tunney said. "People think Wynwood was already a neighborhood back then, but it had not been gentrified. If you had a teenage daughter going to school, you weren't going to live in Wynwood then, because it wasn't safe."
According to Dr. Paul George, resident historian at the HistoryMiami Museum, Wynwood was developed in the early 1920s as a residential neighborhood for white middle-class residents. After the exodus to the suburbs that followed World War II, the population of Wynwood shrank as the neighborhood transformed into an industrial district with a smaller population of low-income, largely Hispanic residents and a high crime rate.
"By the 1980s, Wynwood suffered from all the elements of inner-city malaise of that era," George said. "It was a forgotten neighborhood with nondescript apartments and homes. Even though Tony had a stellar record as a developer, I thought he had gone really awry when he started investing in Wynwood. The fact that Wynwood is where it is today is astounding."
In 2008, author Tom Wolfe was researching his novel "Back to Blood," which was set in Miami, and asked George to join him on a tour of the city in his limo.
"He wanted someone to take him through the different neighborhoods, and when we drove through Wynwood I couldn't believe the amount of traffic and people that Art Basel was drawing to Northwest Second Avenue," George said. "Art was already going on there. There were galleries filled with people."
Many of those quirky galleries are now gone, one of the many reasons not everyone is a fan of Wynwood Walls or its impact on the surrounding area.
Some mural artists have taken their work into other neighborhoods such as Overtown and Little Havana, claiming Wynwood is "oversaturated."
And for every new restaurant and shop that opens in Wynwood, another stalwart business — such as the iconic ABC Costume Shop or the Boxelder Craft Beer Market — has shuttered due to rising rents or redevelopment.
"When an area undergoes such a drastic transformation in such a short period of time, there is always some kind of tenancy change," said Block Capital's Miculitzki. "The people who were there before were not ready for that kind of transformation. The original tenants couldn't afford a higher rent. Their business plan and model was different. But you are seeing different tenants coming in and succeeding in this third or fourth reiteration of the neighborhood."
THE COST OF PUBLIC ART
Even the Wynwood Walls are feeling the pinch. Srebnick said the company has had discussions on how to monetize the museum, including incorporating sponsorships, since the annual operating costs runs "well into the millions."
"Most people don't realize that the Wynwood Walls is a privately owned property," she said. "We do not receive government or grant funding, nor do we charge for people to enjoy the massive array of artwork. Our costs include real estate taxes, mortgage payments, maintenance, security, insurance and staff. The costs are not shared by the neighborhood, yet the benefit is shared by all."
Two restaurants located inside the Walls — the Italian eatery Joey's, named after Srebnick's brother, and the Wynwood Kitchen & Bar — do generate revenue. A new, 2,700-square-foot Wynwood Walls Shop has replaced the previous 500-square-foot store and offers an expanded assortment of products — water bottles, books, puzzles, stickers, magnets — made in collaboration with the artists on exhibit.
"You can buy a painting for $5,000 or $55,000, or you can buy something for $10 and come away feeling that you bought something at Wynwood Walls," Srebnick said.
And as the Walls ramp up for their annual Art Basel showcase, Srebnick said she has been thinking about her father and his original vision.
"People ask me how I think my dad would feel 10 years later looking down on all this, and I say knowing my father, he'd probably cry, because the impact of Wynwood Walls has had so many ripple effects for so many people," she said.
"It's something that we're incredibly proud of as a family. It was his idea and it was executed by a lot people. We picked up a brush and started to paint a picture with Wynwood Walls. A decade later, we have this beautiful canvas that is still being painted."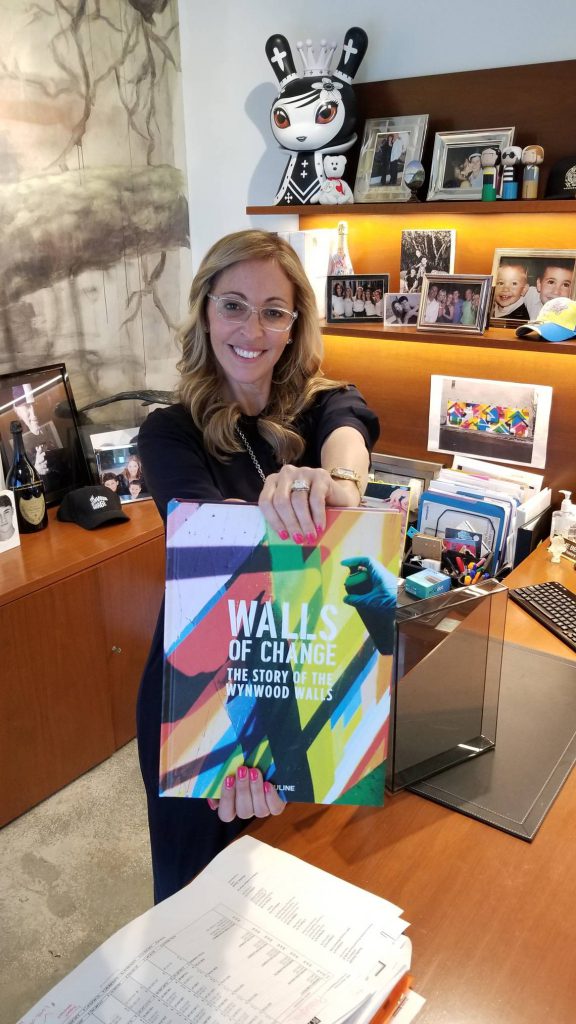 Two restaurants located inside the Walls — the
Back to press